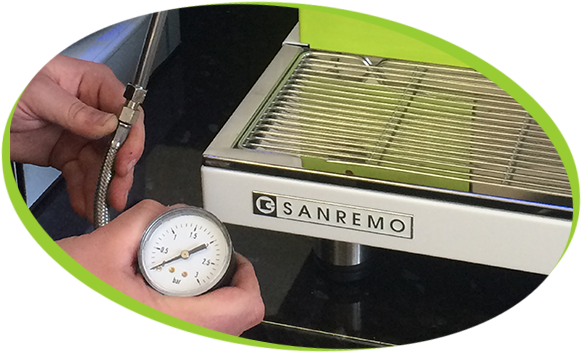 We Pressure Test
In the autumn of 2010, an espresso machine exploded in a supermarket café in Hampshire, resulting in hospital treatment for several people.
This brought to attention the matter of the pressure-vessel regulations, which in general cover the majority of espresso machines likely to be found in a commercial catering situation.
Boiler Pressure Test
The Pressure Systems Safety Regulations 2000
Operating an espresso machine that uses pressurised steam and is older than 14 months from date of new supply can prove to be a risk that you may not want to accept as you have a statutory obligation to meet the stringent legal requirement of the Pressure Systems Safety Regulations 2000.
If you continue to use an espresso machine with a steam boiler without the required testing, you will be in contravention of the Pressure Systems Safety Regulations 2000 which will firstly, invalidate a comprehensive insurance claim made regarding any incident on that machine.(eg scalding of operator or greater.)
Secondly, since the explosion at the Sainsbury's Supermarket in Farnborough with 13 casualties, the Food Hygiene HSE inspectors in a number of areas are already requiring proof of certification, and without this, after a period of grace to obtain certification, they will stop the use of that machine until proof of a successful test is provided.
So if you're a homeowner, a coffee shop owner or work in a corporate environment then make sure you choose Coffee Solutions to bring great tasting coffee to your visitors and customers lips. Our team of coffee experts are on hand to answer any question. We cover areas of Cambridge and Newmarket so feel free to contact the team or call 01223 833 661 to book a pressure test.