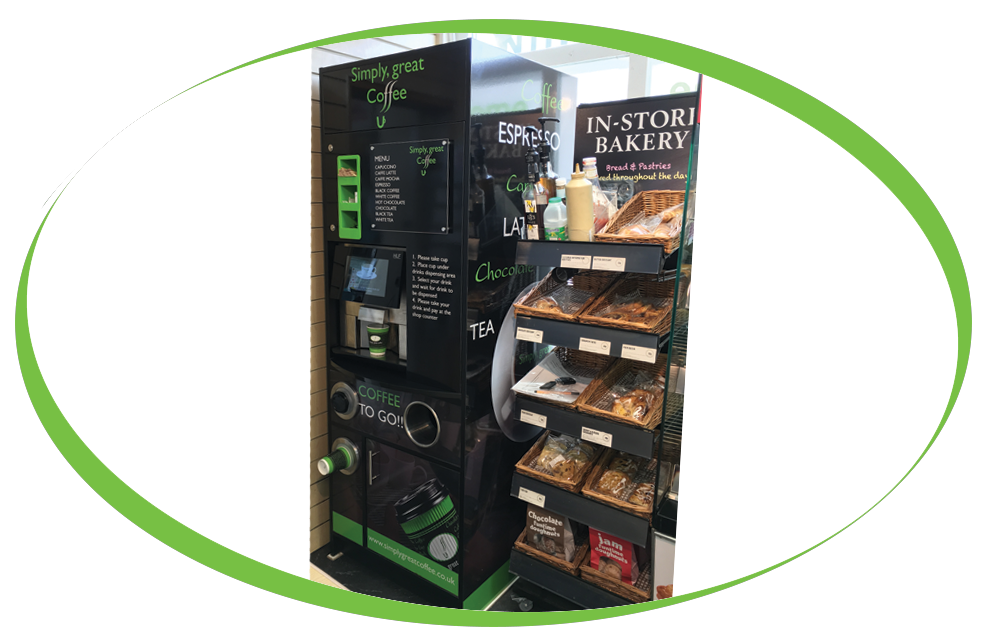 Linsell's of Felsted have recently purchased a new coffee machine and station to house it in. The current machine that they are using is a HLF coffee machine with a touch screen display.
As you can see from the picture above, the machine fits perfectly in one of our coffee stations, this keeps everything neatly packed together along with convenient spaces to hold cups, lids, stirrers and even sugar. Due to the limited space within Linsell's, this innovative piece of equipment sits nicely within the store without causing the area to look 'cluttered'.
As you can see the coffee station is very bold and stands out without looking out of place.
Here at Coffee Solutions, we like to provide our customers with the ultimate coffee experience. So whether you want a table top coffee station or a Floor Standing Tower Unit we can provide these to use with various machines to suit your requirements. The table top coffee station brings the breakout/coffee area into focus, making it a central point with the base cabinets complementing the units.
The Coffee Tower Units are used to replace 'vending hot drinks machines' because they give you a more realistic 'coffee shop experience' while sitting nicely alongside your other vending machines or in a self-service environment.
These can be bespoke to have your own brand in full view for everyone to see
If you would like any information on the Coffee Stations or anything else, please do not hesitate to click here and contact us or give the office a call on 01223 833661