Franke Machine at Showroom
Having sold 5 of these machines within two months of becoming an authorised distributor of the highly acclaimed Franke Machines, we thought it was about time we put our money where our mouth was. So we have purchased one for our showroom in Pampisford, if you would like to arrange a demonstration then give us a call now on 01223 833661.
Did you know that selling coffee is very profitable? You can make £135,000.00 over 3 years based on selling 50 drinks a day at only £2.50 a drink! And with this machine costing as little as £7.20 a day you can see the profits that can be made.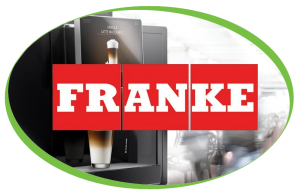 TRUE PASSION LEADS TO INNOVATION!
At Coffee Solutions we certainly have the passion and every Franke coffee machine is packed with true passion and 100 percent swissness.
During product development, we learn from the experiences of restaurant operators, study the needs of coffee roasters and coffee lovers and work tirelessly to further improve our products, the latest product resulting from this constant drive for innovation is the new A600 FoamMaster with Flavour Syrup Station.
The FoamMaster is the key to unlock a virtually limitless range of delicious speciality coffee and milk drinks while the flavour station adds the option of adding a separate flavour to the drinks, for example, in our Franke machine we currently have the option of including Salted Caramel, Gingerbread or Mango to any drinks we wish.
We are extremely satisfied with the machine and the friendly service we have received from Franke.
The machine is very user friendly and simple to use, all drinks are clearly displayed on the screen with further size and flavour options located within each drink, this means everyone can enjoy everything from a perfectly prepared cappuccino right through to flavoured cold milk drinks at the touch of a button.
Not only is the preparation of all drinks so simple, the daily cleaning is just as straight forward, this means even the admin staff are more than capable of ensuring this is cleaned and maintained correctly without any prior training on machines. (and that's talking from first-hand experience).
These are just a few reasons why we have chosen this machine for our showroom, If you would like any more information on the Franke Machines or to arrange a viewing please click here and contact us or give the office a call on 01223 833661