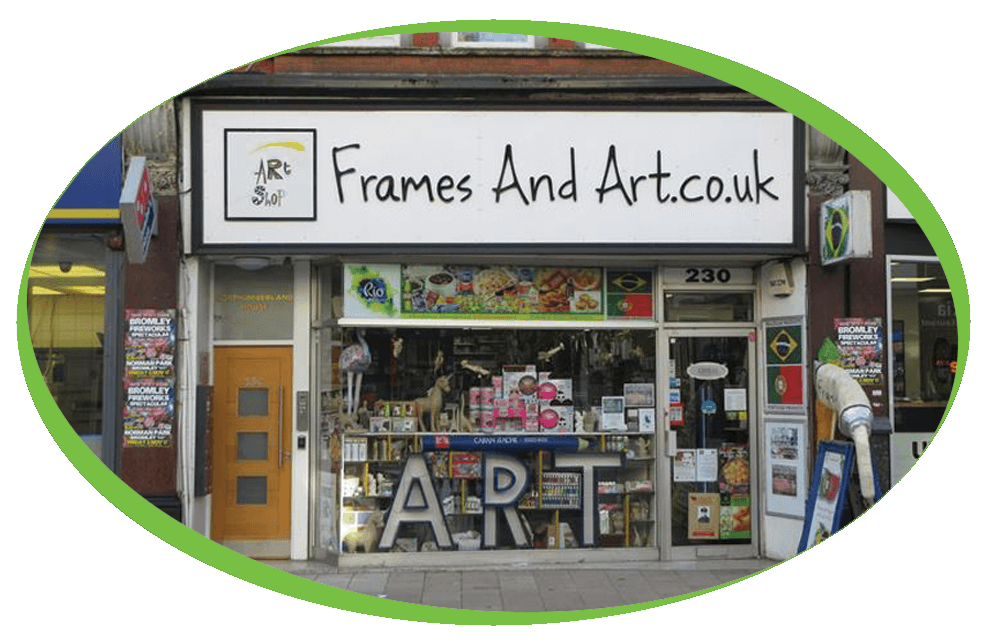 Making your mark on the High Street with Simply, great coffee!
Frames and Art are a family run business in the heart of Bromley High Street, where you can get bespoke framing for any picture, choose one of the stock limited edition prints from a marvellous selection of upcoming British Artists, who create alluring pieces that will catch your eye and make that gift to someone special more memorable and unique. You can also attend the free workshops which they provide to encourage young people to explore their creativity side and learn to draw their favourite cartoon characters. Within the shop you can browse and purchase bespoke cards – Painting and Drawing materials – Clay modelling – Books and much more. The shop has a big Portuguese following and serves snacks and now coffee to customers passing by or using the facilities – Why not join them?
We have recently installed a Franke A800 FoamMaster Easy Clean Machine with added Steam Wand at Frames and Art. With its advanced milk system, the Franke A800 has an unmatched consistent quality of milk foam for every drink and the added steam wand will give the potential of offering various milks like Lactose Free/Almond Milk and more! Along with the easy cleaning system, this machine gives you a complete Coffee Shop experience, offering a comprehensive range of drinks, from the perfect Latte Macchiato to Classic Espresso, a chilled Strawberry milk drink and much more! The FoamMaster is the key to unlock a virtually limitless range of delicious speciality coffee and milk drinks. This is perfect for those who love to experiment with flavours and bring something new into their daily coffee. The machine can make variants of drinks sizes, decaf, two drinks at a time, extra shots, hot chocolate, and with the flavour station, added flavours. It's slimline physique and undercounter fridge unit, this machine fits nicely into small areas where space is a premium. The Franke range of machines will have something to suit nearly all your needs and if you do not require the high throughput machine, there are options with the A400 and A600 range of machines.
On all machines that are plumbed in we highly recommend to all our customers that a Brita Purity C Filter is fitted. The Brita filters will help to prevent unwanted taste and odours within the water and keep scale related problems to a minimum. We can monitor your Brita Filters and change it when required, giving you a 'scale related guarantee' and peace of mind. With all Franke machines a C1100 Brita Filter would be fitted, and the machine will be set up to either have this changed at 12 months or at the pre-set throughput of water which is determined by a water hardness check done at time of the machine being installed.
The Franke A800 FoamMaster supplied to Frames & Art is using our Caffe Trio Triple Certified Beans (Rain Forest Alliance / Fairtrade / Organic) and our Simply Dutch Chocolate along with a range of Birchalls Teas and Flavoured Syrups and Sauces to make lots of exciting drinks. As they have a large Portuguese following, they are also using a Portuguese blend of beans. The Franke machine can make flavoured milk drinks and Caffe Frappe options means that even in the summer you can provide something for everyone.
With the Easy Clean A800 Machine, the simple and time saving way this machine cleans is very user friendly and with the Quarterly Cleaning Packs we provide this means you have plenty of stock to make sure it is kept clean and working to it's full potential.  If you are unsure of which products are right for your machine, contact the team at Simply, great coffee today!
We are finding a greater need to cashless mechanisms that will allow customers and staff to purchase items using Debit / Credit cards / Apple pay etc. This facility is increasing customers usage and increasing staff and customer satisfaction and Franke have a system which can provide this option.
We can offer lease options over 3 or 5 years, spreading out the payments so that you can enjoy a top-quality machine without the worry of covering the cost upfront. If you are interested in leasing a new or refurbished machine give our Sales Team a call to discuss the options.
At Coffee Solutions, it's about supporting the customer not just with ingredients but knowledge of equipment. Simply, great coffee supplying a complete package.
If you would like any information on our Machines, Supplies or Servicing, please do not hesitate to click here and contact us or give the office a call on 01223 833661