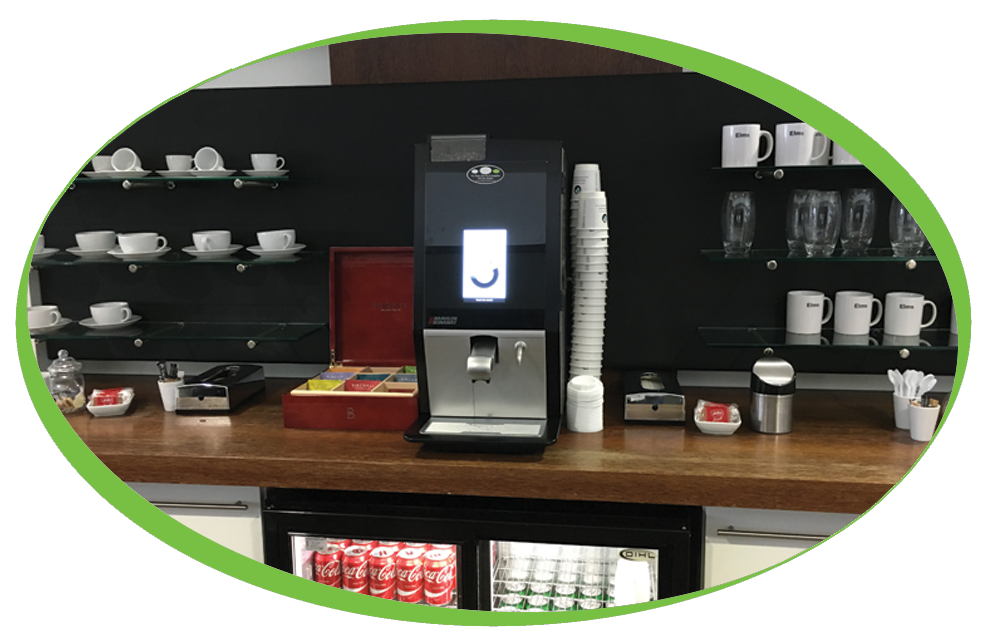 Elms Stansted has been a long standing customer with Coffee Solutions, with machines being installed all the way back in 2010! We supply simply, great coffee not only to Elms Stansted but also to Elms Bedford and Elms Cambourne.
In 2010 Elms Stansted chose three Azkoyen vending machines for Coffee Solutions to fill with snacks and cold drinks and clean on a weekly basis.
Two Nexus SFB machines and a Stentorfield Ventura were taken out on a leasing contract and have been working hard ever since!
In 2013 Elms chose a professional Jura Giga X9 accompanying a universal fridge unit. The Jura Giga X9 is our most advanced commercial coffee machine and will produce 2 simultaneous cappuccinos, lattes and coffees at the touch of a button. With 20 individually programmed speciality drink options and a daily capacity of 250 drinks. This machine was also signed under a leasing contract.
In 2016 Elms' demand for coffee from both employees and customers increased so much, they decided to purchased two refurbished Stentorfield Visions to help satisfy the need for simply, great coffee. While the Stentorfield Vision machines are refurbished, this in no way reduces their ability to produce 5-star beverages, our engineers carefully strip down, repair, clean and test every component within the machine from the bottom up.
Last but not least, Elms Stansted has chosen to install a Bravilor Esprecious B2c in a sleek matt black, this is a new addition to our machine stock, it certainly turned a few heads in our showroom! Elms have decided to customise the machine with their logo's to add a personal touch to their coffee.
Elms Stansted uses Espresso Gourmet Beans, Simply Dutch Chocolate as well as the delicious Lotus Biscuits for an extra treat on coffee breaks.
If you would like any information on leasing options or anything else, please do not hesitate to click here and contact us or give the office a call on 01223 833661