A Look into Our Coffee for Machine Use
Here at Simply Great Coffee we not only supply great quality coffee machines but also delicious coffee supplies. Our coffee for machine use has been exclusively roasted by us and made to profile. In this way we can be sure that you receive the same quality with each purchase. Our coffee comes in three main styles: espresso beans, filter/ground coffee and instant coffee. Each type has its own unique qualities and strengths that make them a great choice for discerning coffee lovers. Therefore, let us go through the types of coffee for machine use we can offer you.
Espresso Beans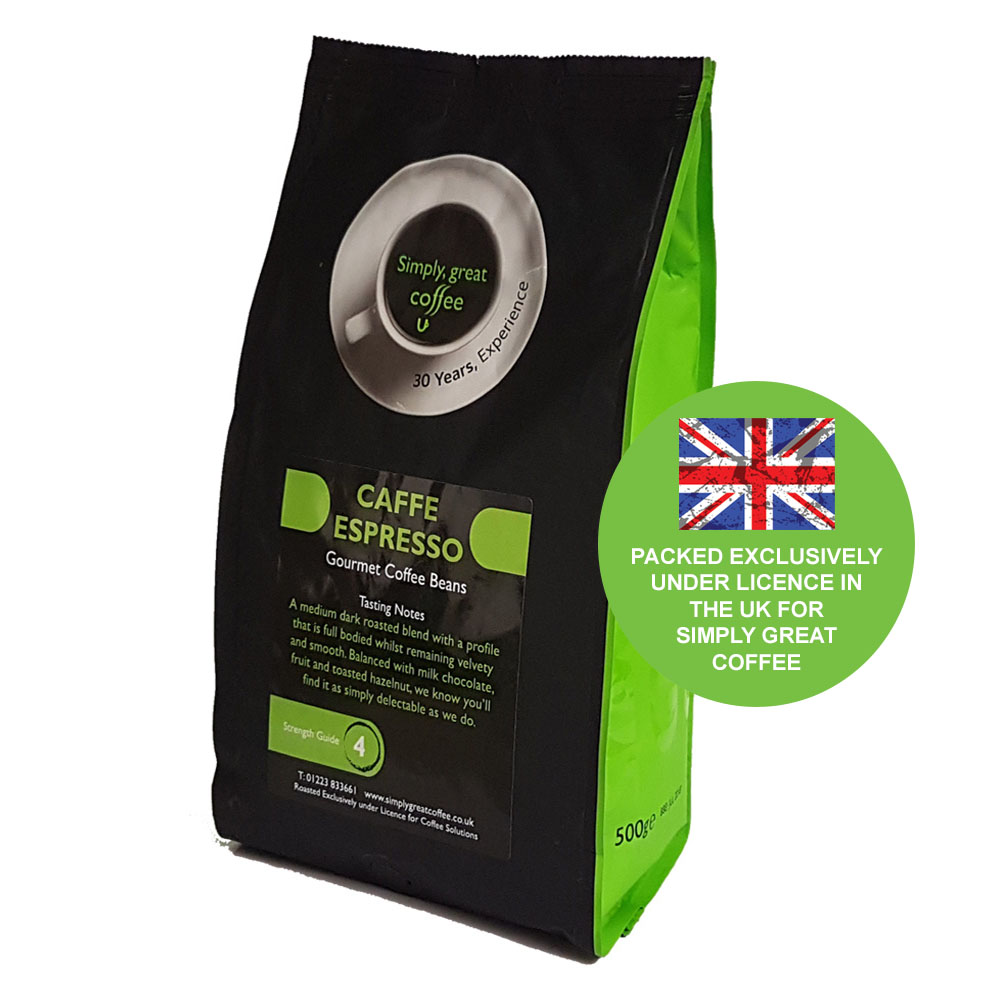 Our Caffe Espresso Gourmet Coffee Beans have a smooth and velvety full bodied roasted flavour with a strength of 4. Our espresso coffee for machines use dark roasted blend mixed with delicious milk chocolate, fruit and toasted hazelnut. We also offer Caffe Decaff Gourmet Coffee Beans for a milder, caffeine free coffee. Our decaf coffee features the same delicious properties with a strength of 2. In addition, we offer our 2016 Great Taste Winner, Caffe Marco. This deliciously chocolate infused coffee with a hint of fruity goodness has an overall strength of 5. Our Caffe Trio Triple Certified coffee with sweet caramels and a crisp taste has a strength of 4. Finally, our Caffe Velluto adds the sweetness of toasted almonds and molasses with an overall strength of 3.
Filter/Ground Coffee
When it comes to our range of ground coffee for machine use, our Caffe Classic Gourmet Filter Coffee is a great all rounder. Featuring the delicious blend of roasted coffee, milk chocolate and nutty goodness, this coffee has an overall strength of 2. Our Costa Rica coffee features a more buttery taste with a hint of citrus and a strength of 2. The Caffe Decaff Espresso range features the same great taste minus the caffeine and an overall strength of 2. Our Omnigrind range features a medium dark roasted blend of beans from around the world together with sweet toasted almonds and molasses with a strength of 4. Finally, our Caffe Java range combines the rich taste of baking chocolate with the sweetness of toffee plus a hint of spice giving a strength of 4.
Instant Coffee
In addition to our coffee for machine use, we also offer our own range of instant coffee as well as ones for leading brands. Our own recipe of Columbian Freeze Dried Instant Coffee delivers you a delicious blend of great tasting coffee every time. From Kenco, we offer three blends: Smooth Roast for a mild coffee taste, Really Rich for a full bodied and strong coffee, and Decaffeinated for the smoothest tasting coffee around. Finally, the classic Nescafe range features the signature original blend of arabica and robusta coffee beans, the smooth tasting Gold Blend, and Gold Blend Decaffeinated.
Simply Great Coffee
Here at Simply Great Coffee we pride ourselves on our great tasting range of coffee flavours and coffee making products. To find out more about our range we invite you to browse our online store or speak with one of our expert team members today.